The deepening of energy cooperation between Bulgaria and the United Arab Emirates has been discussed today at a meeting at the Ministry of Energy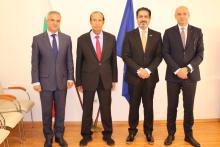 download this image
Opportunities to deepen energy co-operation were highlighted during the meeting between Energy Minister Rumen Radev and the United Arab Emirates Ambassador Sultan Rashid Alkaioob Alnuaimi. The meeting took place at the Ministry of Energy. Deputy Minister Nikolay Nikolov and experts from the International Directorate also participated.
Among the topics discussed were the challenges to the energy transition, energy diversification and security of the access to energy resources. Emphasis was also placed on the potential to deepen the cooperation between Bulgaria and the UAE in the field of technologies related to the production of green hydrogen and electricity.
Ambassador Sultan Alnuaimi presented detailed information on the organization and main topics for discussion in the upcoming global forum on energy challenges, which will be held in Dubai at the end of the year. During the meeting, Ambassador Sultan Alnuaimi and Minister Radev agreed that Bulgaria is a significant partner for the United Arab Emirates and it is important for both sides to maintain and further develop their relations.