Minister Nikolov took part in a Р-ТЕСС forum in Bucharest to promote energy security and diversification of supply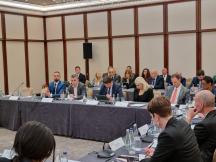 download this image
Energy Minister Alexander Nikolov and his deputy, Danil Nikolov, participated in a high-level round table within the session of the Partnership for Transatlantic Energy and Climate Cooperation (P-TECC) in the Romanian capital Bucharest. The meeting was devoted to the theme "Energy security and diversification in Europe: next steps towards strengthening partnership".
The event included representatives of the public and private sector with a commitment to co-operation with the P-TECC Working Party on Nuclear Energy.
The discussion highlighted that nuclear energy and renewable energies will play an important role in decarbonizing the EU's energy system and that they are able to ensure a stable supply of energy at predictable and affordable prices in the long term. Bulgaria has participated in P-TECC's workshops since the Partnership's establishment in 2018 and last year our country hosted a high-level PTECC round table in Sofia.
During the meeting, Minister Nikolov informed the participants that nuclear energy produced by the Bulgarian Kozloduy Nuclear Power Plant provides between 32% and 37% of gross domestic electricity production. Our country maintains a strong proactive nuclear approach and has over 45 years of proven experience in the safe operation of nuclear installations.
The share of nuclear energy in the national mix is expected to be maintained or even increased in the future. Our country is exploring technologies that provide flexible solutions and contribute to balanced and cost-effective energy diversification, including through new nuclear capacities. Kozloduy Nuclear Power Plant has implemented a large-scale programme which will enable a long-term operation of Unit 5 and 6 by 2047 and 2051 respectively. Bulgaria is also interested in the development of small modular reactors as complementary and not substitute technology.
Minister Nikolov expressed concern about the negative consequences of several interconnected crises, the COVID-19 pandemic and the ensuing spike in energy prices. Against this background, the disruption of natural gas supplies to Bulgaria from Gazprom Export is a serious threat to the country's energy and economic systems. However, the Bulgarian Government took immediate action to provide alternative blue fuel supplies, including from US partners, and has proved that there is no need for restrictive measures on gas consumption in the country.
The P-TECC initiative includes the USA and 22 European countries – Bulgaria, Albania, Austria, Bosnia and Herzegovina, Croatia, Cyprus, Czech Republic, Estonia, Georgia, Germany, Greece, Hungary, Latvia, Lithuania, Moldova, Montenegro, Northern Macedonia, Poland, Romania, Slovakia, Slovenia and Ukraine, in close cooperation with the EU. P-TECC focuses on technical cooperation in a number of key areas, such as preparing analysis and planning of the integration of gas and electricity systems, providing best practices in the field of energy cybersecurity, promotion of new capital investments in key energy infrastructure and improving energy efficiency and clean energy consumption, including in the field of renewable energy sources, nuclear energy and fossil fuels. These objectives are in line with the priorities of the Republic of Bulgaria in the energy sector. Bulgaria supports the Partnership for Transatlantic Energy and Climate Cooperation and has participated on a regular basis in its workshops since 2018.