Minister Nikolov attended the inauguration ceremony of the Interconnector Greece – Bulgaria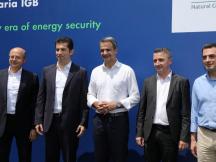 download this image
Energy Minister Alexander Nikolov, along with the Prime Ministers of Bulgaria and Greece, Kiril Petkov and Kyriakos Mitsotakis, the Greek Minister of Environment and Energy Kostas Skrekas, the Minister of Energy of Azerbaijan Parviz Shahbazov and other officials, participated in the inauguration ceremony of the Interconnector Greece – Bulgaria (IGB) near the Greek town of Komotini. The facility is essential for energy security in the region. Being in synergy with the TAP and TANAP, as well as with the existing and future liquefied natural gas terminals, the interconnector will provide supply of natural gas from different sources – the Caspian region, Qatar, Egypt, Israel, the USA and others. Thus, the gas pipeline is a major factor in diversifying natural gas sources, the importance of which has increased after the unilateral suspension of gas deliveries by Gazprom Export.
The participants in the ceremony underlined the role of the project for the energy security not only in Southeast Europe, but also for the entire continent. According to their unanimous opinion, IGB will transform the region's energy map and further enhance cooperation between the parties. With the launch of the gas pipeline in commercial exploitation, European countries will have access to new, different sources of natural gas and thus the long-standing intentions for diversification will become a reality.
For Bulgaria, the interconnector is key for implementing in full volume (1 billion cubic meters per year) the contract for gas supply from Azerbaijan.
At the beginning of July, the main construction activities on the pipeline were completed. The linear part was fully implemented, the gas metering station in Stara Zagora was completed, 165 km of all tracks were revegetated. The gas pipeline is currently filled with test quantities of natural gas. After its launch in commercial operation, which is expected before the start of the next heating season, it will be the highest-tech facility of this type in the country – all sites along the route will be served unattended.
IGB pipeline has a total length of 182 km, most of which are on Bulgarian territory. Its route in Bulgaria passes through the municipalities of Stara Zagora, Haskovo, Dimitrovgrad and Kardzhali, providing the possibility of gasification in all inhabited areas in the region. IGB capacity is 3 billion cubic meters per year, with an opportunity to be increased up to 5 billion cubic metres per year.