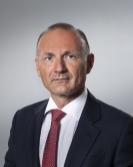 Caretaker Energy Minister
Rossen Hristov holds a Master's degree in International Economic Relations from the University of California, USA. Mr. Hrisov has a long-term experience in the energy sector, holding senior positions in international companies. He is an internationally recognized expert in company acquisitions and restructuring, crisis management, strategies and development.
Rossen Hristov worked for the Italian energy company Enel, responsible for the restructuring and integration of the acquired large-scale energy subsidiaries in Greece, France and Russia. Afterwards he was regional director for Eastern Europe and Latin America at the Dutch company for repair and maintenance of energy assets "Dietsmann" and led the acquisition of "Energoremont Holding" in Bulgaria, of which he later became the Chairman of the Management Board.
In recent years, Rossen Hristov has been involved in investments in start-up companies with a focus on green technologies. He speaks 4 languages fluently and is a member of MENSA.
Mr. Hristov was born in 1974.