"Bulgargaz" and BOTAŞ signed an agreement granting access to the gas transmission network and the LNG terminals in Turkey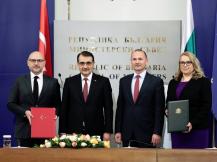 download this image
In the presence of the energy ministers of Bulgaria and Turkey, Rosen Hristov and Fatih Dönmez at the Council of Ministers, an agreement was signed, granting Bulgargaz EAD access to the gas transmission infrastructure of the Turkish state owned enterprise BOTAŞ. In addition to the pipelines, there are five LNG terminals available to the Turkish company.
The agreement has a duration of 13 years. It enables 1.5 billion cubic metres of gas to be transferred annually between the two countries during this period.
"Today's signing is the first step in a long-standing fruitful co-operation that will allow our country to buy natural gas from all world producers," Bulgarian Energy Minister Rosen Hristov underlined. In his words, the two countries are thus jointly addressing the issue of security of gas supply, heavily damaged by the military action in Ukraine. "This step is of great importance not only for Bulgaria but also for the whole of Europe," the Bulgarian energy minister added. "Literally three weeks after the presidents of both states, Rumen Radev and Recep Tayyip Erdoğan, agreed on large-scale co-operation between our two countries, we succeeded in implementing their initiative into a practical solution that allows for mutually beneficial development in the field of energy," Minister Hristov said.
According to his Turkish counterpart Mr. Fatih Dönmez, natural gas transportation, made possible by the signed agreement, has a key role to play in ensuring a secure and reliable supply of natural gas for the entire region. Minister Dönmez expressed his confidence that the present co-operation will continue to deepen in the interest of consumers.